With this weblog I hope to show you a little bit of my life in Japan. The main texts are in Dutch, but all the text in the "photo updates" is in English, so I hope there is something for everyone.
---
Links on Japan Page
I added a page with
Links on Japan
for everyone who wants to know more about this fascinating country, people who plan a trip and hopefully it is also usefull for people living in Japan!
---
Update 44:
Over de aardbeving
Update 43:
Japanese words originating from Dutch
Photo Update 42:
Graduation
Flight to Ōshima
Hiking Kumotoriyama
Visiting Pieter in Korea
Berlin 1
Berlin 2
Berlin 3
Tamagawa fireworks festival
Hiking Mt. Hotaka
Hitachinaka fireworks festival
Photo Update 41:
Kyōto 1: Gion & Fushimi-Inari
Kyōto 2: Arashiyama
Ise 1: Ise Shrine & Futami
Ise 2: Pearl cultivation
Mie & Wakayama
Naruto
Shikoku
Hattōji
Okayama & Himeji
Odaiba (Tōkyō)
Photo Update 40:
Climbing Mt. Kitadake
Wedding cake preparations
Tōkyō
Fuji lakes & Kamakura
Kiso valley & walking the Nakasendō
Kagamigahara Aerospace museum & Inuyama
Autumn colors & X-Mas lightup
Photo Update 39:
Misaki peninsula (Miura, Arasaki, Jōgashima)
Site of reversible destiny
Kyōto (Nijō Castle & brewery)
Temples of Tōfukuji
Hikone castle
Edogawa & Tamagawa fireworks
Photo Update 38:
Chūbu Tour - 1: Kiso Valley
Chūbu Tour - 2: Tsumago-juku & Magome-juku post towns
Chūbu Tour - 3: Gujō-Hachiman & ShirakawagD;
Chūbu Tour - 4: Kanazawa
Chūbu Tour - 5: Tōjimbō (Basalt lava coast)
Chūbu Tour - 6: Last 2 days (Coast, Obuse, Nagano, Matsumoto)
Photo Update 37:
Tohoku Tour - 1: Hiraizumi & Kakunodate
Tohoku Tour - 2: Hirosaki
Tohoku Tour - 3: Oirase & Morioka
Tohoku Tour - 4: Sanrikukaigan (Tohoku's east coast)
Photo Update 36:
Haneda Airport
Strandbeest & Cherry Blossoms in Tokyo
Kamakura
Photo Update 35:
Melbourne
Avalon Airshow (Part 1)
Avalon Airshow (Part 2)
Sydney
Photo Update 34:
Dezomeshiki (New Year's Fire Review)
Flight to Ooshima
Photo Update 33:
Christmas
Jeju (Korea)
Jeju (Korea) 2
Autumn Hiking
Kyuushuu tour part 1: Nagasaki
Kyuushuu tour part 2: Nagasaki
Kyuushuu tour part 3: Unzen
Kyuushuu tour part 4: Kumamoto
Kyuushuu tour part 5: Around Aso
Kyuushuu tour part 6: AroundAso
Other
Photo Update 32:
Alaska Part 1
Alaska (& Seattle) Part 2
Hiking from Oze to Kaniyu onsen
Hanabi (Fireworks)
Hiking Shiroumadake (Hakuba)
JAXA excursion and Cycling tour
Nagatoro walk and river cruise
Making stuff with ume (japanese plums)
Photo Update 31:
Other things (in Tokyo)
Washington
London
Munich
Paris
Photo Update 30:
Other things
Onsen tour part 1
Onsen tour part 2
Korea part 1
Korea part 2
Photo Update 29:
2 Day trip to Hokkaido (snow festival)
Wedding of Tobi & Mae Rose (and preparations)
Takayama & Shirakawago (UNESCO)
Christmas 2007
Photo Update 28:
Autumn colours
Trip to Okinawa
Miyako Island
Shimoji Island
Other pictures
Photo Update 27:
Nokogiriyama (Chiba)
Photo Update 26:
Conference trip to Ostrava (Czech)
Zdar & Pernstjen castle
Prague
The Netherlands
Photo Update 25:
Climbing Mt. Yari, Day 1
Climbing Mt. Yari, Days 2 & 3
Mt.Takao, Odaiba, Flight Demonstration
Photo Update 24:
Climbing Mt. Fuji, the way UP
Climbing Mt. Fuji, the way DOWN
Photo Update 23:
Coastline and Fireflies in Izu
Yokohama trip with language class
Laboratory Party
Hiking Ooyama & Takamizu-sanyama
Rose garden & Nikko trip
Photo Update 22:
Tour around Mt Fuji
Japanese Folk house museum
My house
Photo Update 21:
Signs - Watch your fingers!
No Smoking signs
Signs to promote good manners
Funny pictures from manuals
Roadwork / Construction work signs
Other funny signs
Update 18:
Onderzoek, Festiviteiten & losse flodders
Photo Update 20:
Hanami (cherry blossom viewing)
Easter
Other
Update 17:
Over het verleden en de toekomst
Photo Update 19:
Searching for a new house
Snow Monkeys
Nagano
Ice skating & lab party
Photo Update 18:
New year celebration at Meiji Jingu
New year ornaments
Christmas illuminations
Update 16:
Over Onderzoek, een testvlucht & de gluhwein party
Photo Update 17:
Autumn at the university campus
Flighttest
Tokyo Daibutsu
Gluhwein party preparations & presentations
Yokohama
Update 15:
Japanese words originating from Dutch
Photo Update 16:
English texts
Update 14:
On the weird english language (in English!)
"The Chaos" poem and other texts that show english pronuncation is weird
Photo Update 15:
Voting & Fuji lakes
Photo Update 14:
Tokyo (part 1)
Kamakura
Hakone
Around Kyoto
Kyoto
Koyasan
Autumn colours at Koyasan
Tokyo (part 2)
Photo Update 13:
Hiking Bou-no-mine
Lab - Komaba - Shimbashi
Photo Update 12:
Hiking Kuroyama santaki (1)
Hiking Kuroyama santaki (2)
Rikugi-en garden (Tokyo)
Koma flowers and Kawagoe
Update 13:
Vakantie komt eraan! Taal, onderzoek en tochten
Photo Update 11:
Shinagawa & Fireworks with Van Ginkel
Hiking Mt. Jimba
Asakusa Samba Carnival Parade
Yoyogi koen/harajuku Genki matsuri (energy festival)
Update 12:
Over mijn bezigheden...
Photo Gallery:
Nihongo (japanese language) course completion ceremony & party
Photo Update 10:
Going to Hanabi festival (Fireworks)
Hanabi (Fireworks)
Hiking at Miyagase Dam area
Other
Photo Update 9:
Nokogiri yama
Hota beach
Photo Update 8:
Mt. Takao 1
Mt. Takao 2
Tanabata festival
Electric home appliances
Comics in manuals
Update 11:
Over het hiken op Mt. Takao, mijn oven, en verder...
Photo Update 7:
Tokyo Green Tour
Irisses in the Emperial East Garden
Ikebana at Yasukuni Shrine
Update 10:
Over de taalcursus, het Lab, tradities en groen in de stad
Photo Gallery:
Lab: April 2006 Welcoming party
Lab: June 2006 BBQ in Tachikawa
Lab: June 2006 Rest of Tachikawa park
Update 9:
Taal verhaal
Photo Update 6:
Alps
Birthday (Garden)
Birthday (Jazz)
Update 8:
Verjaardag & de Japanse Alpen
Photo Update 5:
Asakusa
Fuji
Photo Update 4:
Ueno
With Max
St. Mary's Cathedral
Photo Update 3:
Koishikawa Korakuen Gardens
Photo Update 2b:
Kamakura & Tokyo (By Jorg)
Update 7:
Losse Flodders
Photo Update 2:
Kamakura (Part 1)
Kamakura (Part 2)
Kamakura (Part 3)
Sightseeing Tokyo Day 1 (Part 1)
Sightseeing Tokyo Day 1 (Part 2)
Sightseeing Tokyo Day 2 (Part 1)
Sightseeing Tokyo Day 2 (Part 2)
Sightseeing Tokyo Day 2 (Part 3)
Update 6:
Over de taalcursus en de Golden week
Update 5:
WLAN op het balkon
Update 4:
Over de laptop, vakgroepen & onderzoek,
de taalcursus en het eten
Photo Update 1:
General photos
Komaba Lodge (My appartment)
Welcome Party
Meiji Jingu Shrine & park
Weird Japanese at Harajuku
Update 3:
Over het eten, reizen, computers en samurai
Update 2:
Over de inkopen en de mensen
Update 1:
Over de vlucht, de prof, de pasfotos en mijn kamer
---
[Dutch] Zoals ik al gemeld had in update 8 heb ik een opname van de "happy birthday improvisatie" die de jazz band speelde in het cafe waar we op mijn verjaardag naartoe zijn geweest. Je kan de mp3
hier downloaden
. De geluidskwaliteit is niet super, ten eerste omdat het natuurlijk een heel simpel microfoontje was en te tweede omdat ie (veel) te dicht bij de drums zat. Met nabewerking heb ik het nog enigszins om aan te horen kunnen maken, het idee zal in ieder geval duidelijk zijn. Op het eind hoor je de pianist etoo (euh)... tanzyoobi (verjaardag) ... zeggen en hij krijgt van mijn collegas "Jorg" als antwoord waarop hij "Jorg-san tanjoobi omedetoo gozaimasu" (Jorg verjaardag gefeliciteerd van harte). Op het eind wordt nog "OMEDETOO" geschreeuwd waarop ik "doomo arigatoo gozaimashita" antwoord (heel er bedankt).
---
| | |
| --- | --- |
| | I try to keep track of the places I have been in Japan (in 2004 and now) and some famous spots where I still like to go. Here you can download a file with locations for Google Earth (Updated: 7-August-2009) |
---
Down here you find a picture of Fuji-san like it could look when seen from an airplane... It is a picture I found here, taken in January 2006 with the laboratory camera.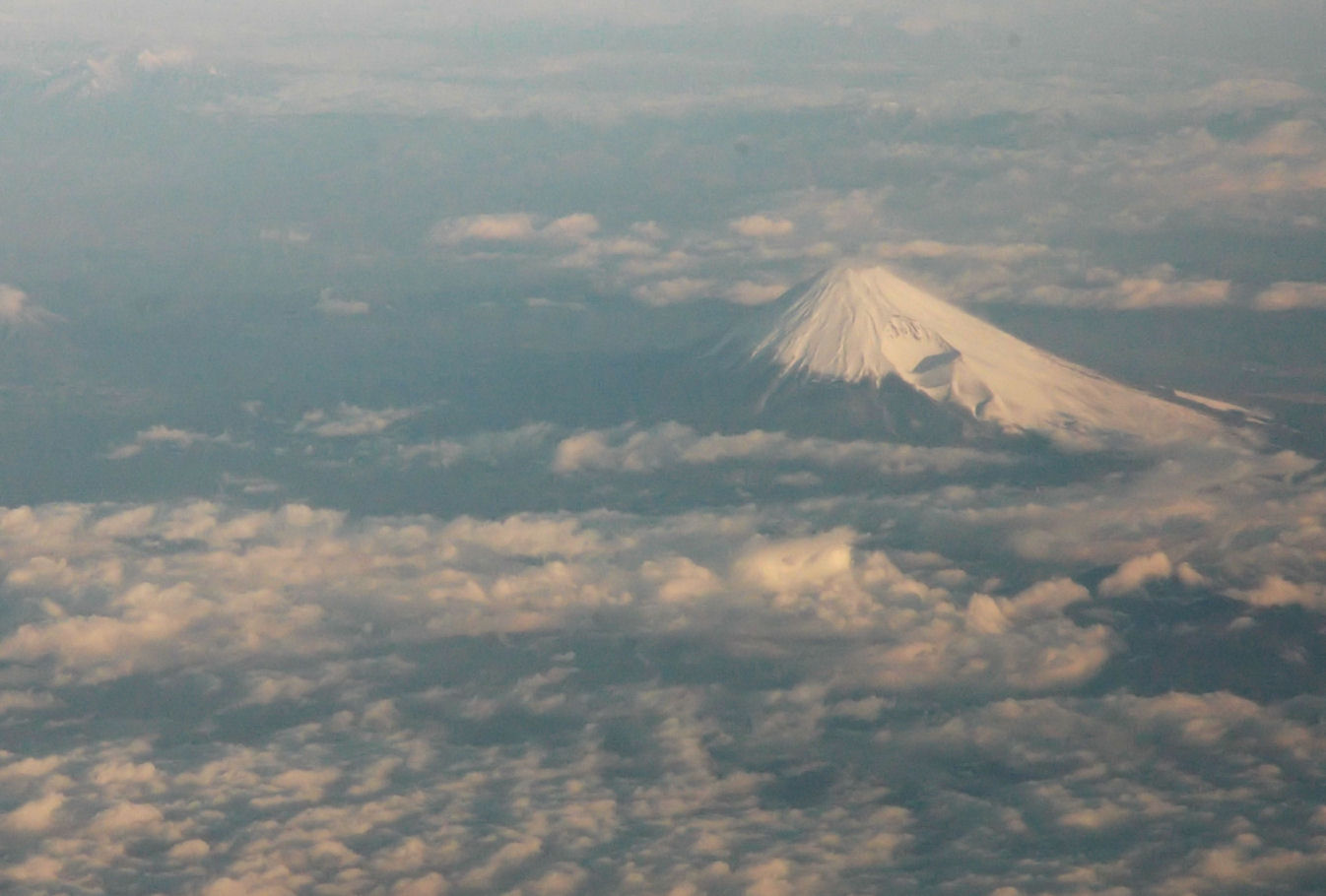 ---
My
new
OLD
address is:
Jorg Entzinger
Casa Felice 201
2-21-6 Honkomagome, Bunkyo-ku
153-0041 Tokyo

Japan
ヨルグ エントジンガー  (Yorugu Entozingaa)
〒113-0021
東京都文京区本駒込2-21-6
カーサ・フェリーチェ201

Japan
If you need to know my new address, please mail me.